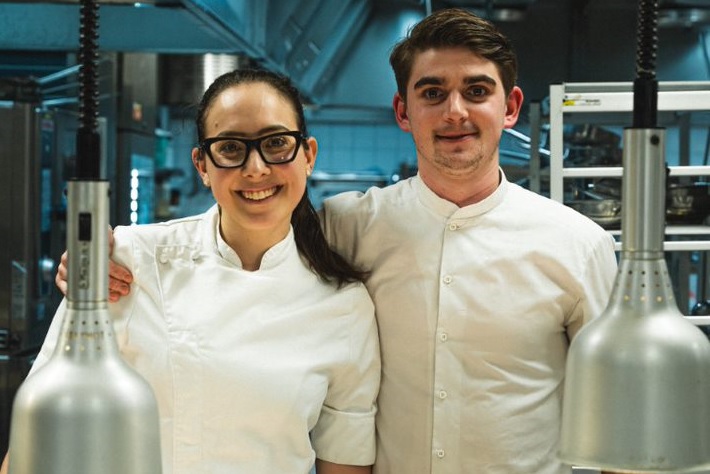 There are 16 exclusive dining areas available in our Bistro, a beautiful chambre séparée. Chefs table offer our guests a culinary experience together with Martina Pistolesi and Eric Blomquist. 
We would like to present Martina and Eric - two of our stars in the kitchen with an interview:
Martina Pistolesi
Background, previous career etc
"It all start from my childhood, from the memories of these family dinners, where the meal is a convivial and pleasurable moment. Without knowing it, I was influenced by the love that my grandmother transmitted in cooking. I already had clear ideas. As soon as I turned 18 I attended "Alma", an international school of Italian cuisine. It opened the door to Michelin star restaurants for me. I decided to leave Italy to experiment new cooking style, cultures and to challenge myself. I went to Copenhagen where I stayed för 3 years as a sous-chef at restaurant Geranium. 
Why Sweden?
Many have asked me why Sweden? Why? Because I have always been in love with this city, posctard landscape, warm people and amazing food. Maybe I always knew I was a little Swedish inside me. 
Best food & flavors?
I am very attached to traditions. I prefer simple and decisive tastes. If there is one thing I can´t live without is pizza Margherita. I know, maybe a trivial answer, but is there anything better?
Best thing about working at Skepparholmen?
The people. From the first day i entered they welcomed me like at home, always smiling and available. But another of the reasons why I am here is because I want to challenge myself once again and together with the team create the best food for our customers.  
What do you want our guests to enjoy during the Chef´s Table on March 31?
Through the Chef´s Table I would like to let a part of me be known. From the most decisive, pungent, simple to sweet side. Use dishes that recall my Italian roots influenced by Nordic contamination."
Eric Blomquist
"Background, previous career, etc.
Carpenter who changed career to a profession as a chef. Has previously worked at Vigårda, Rich, Krusmyntagården and Geranium in Copenhagen. Have worked at Skepparholmen for 4 years.
Favorite food and dining experiences?
My favorite spice is salt and my favorite ingredient is grilled fish. I love cooking outdoors.
What is the best thing about working at Skepparholmen?
The freedom you get in the kitchen and the opportunity to work with like-minded people.
What do you want our guests to experience at our next Chef's Table on March 31?
As always - our guests will experience good things!"
With this interview we hope we have given extra interest for the next occasion of Chef's Table. This time with Italian flavors. A wonderful dining experience with the opportunity to learn some cooking tricks. We promise you a unique experience - much more than just a dinner.