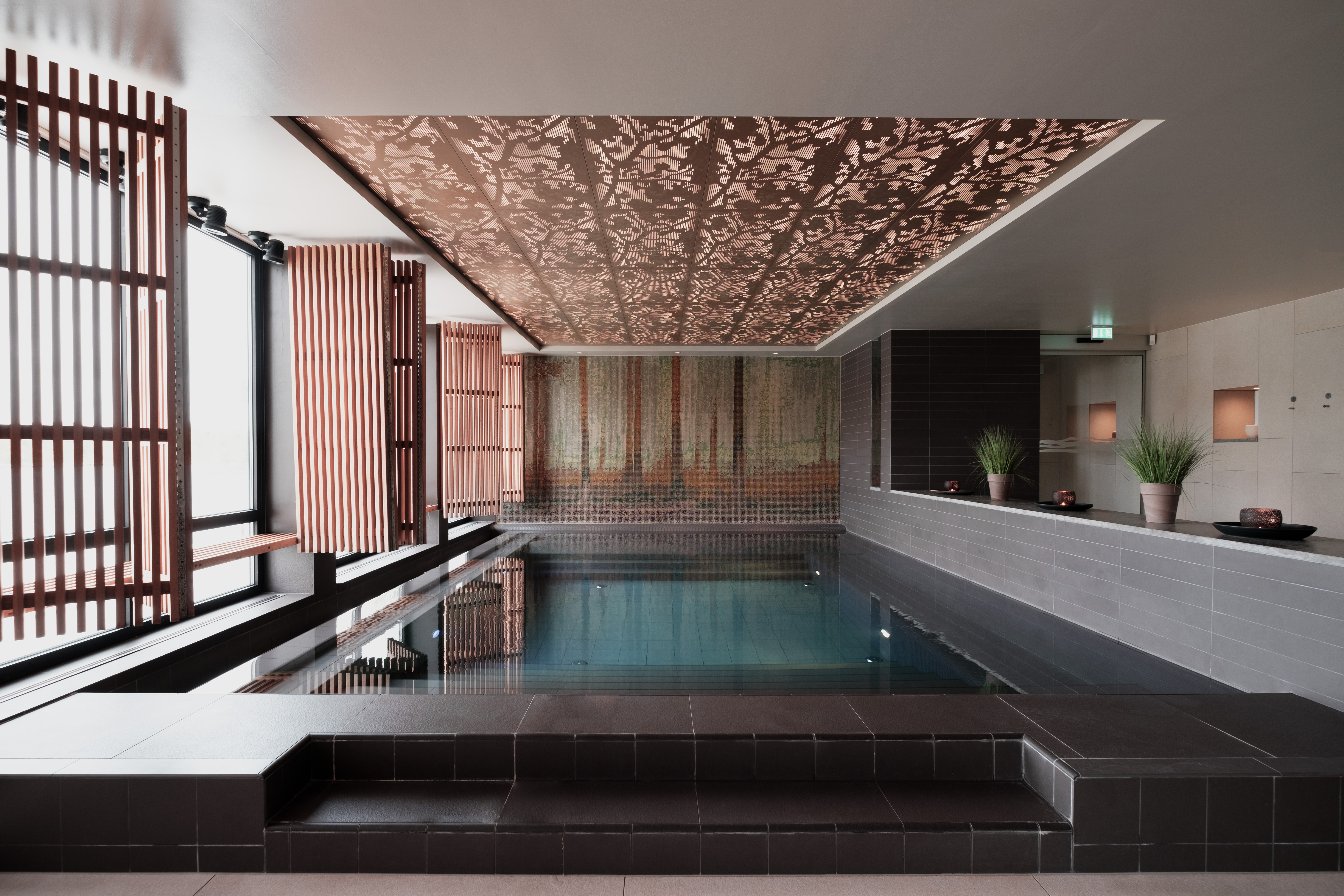 Before your spa treatment
In order for your stay to be successful from start to finish, we recommend that you book your treatment at the spa well in advance of your arrival, ideally when booking your spa package. We recommend arriving well in time for your booked spa treatment, gaining time to take a dip, change into a bathrobe and unwind. If you are pregnant, have an illness or are taking medicine, let us know in advance so we can prepare your treatment in the best way. Bring swimwear for pool and sauna visits. 
Always shower before bathing or body treatment.
Which hotel room categories do you have in the hotel?
All our hotel rooms have shower, toilet, TV, hairdryer and the amenities you as a guest need. 
Wireless internet / fiber is free. No password needed.
We have single, double and deluxe rooms. Our double rooms are available with two separate beds (90 cm x 2) or a queen size bed (160 cm). Our deluxe rooms are more spacious double rooms with in-room seating and guaranteed sea views included. Hotel rooms with queen size bed is 160 cm and hotel room with king size bed is 190 cm.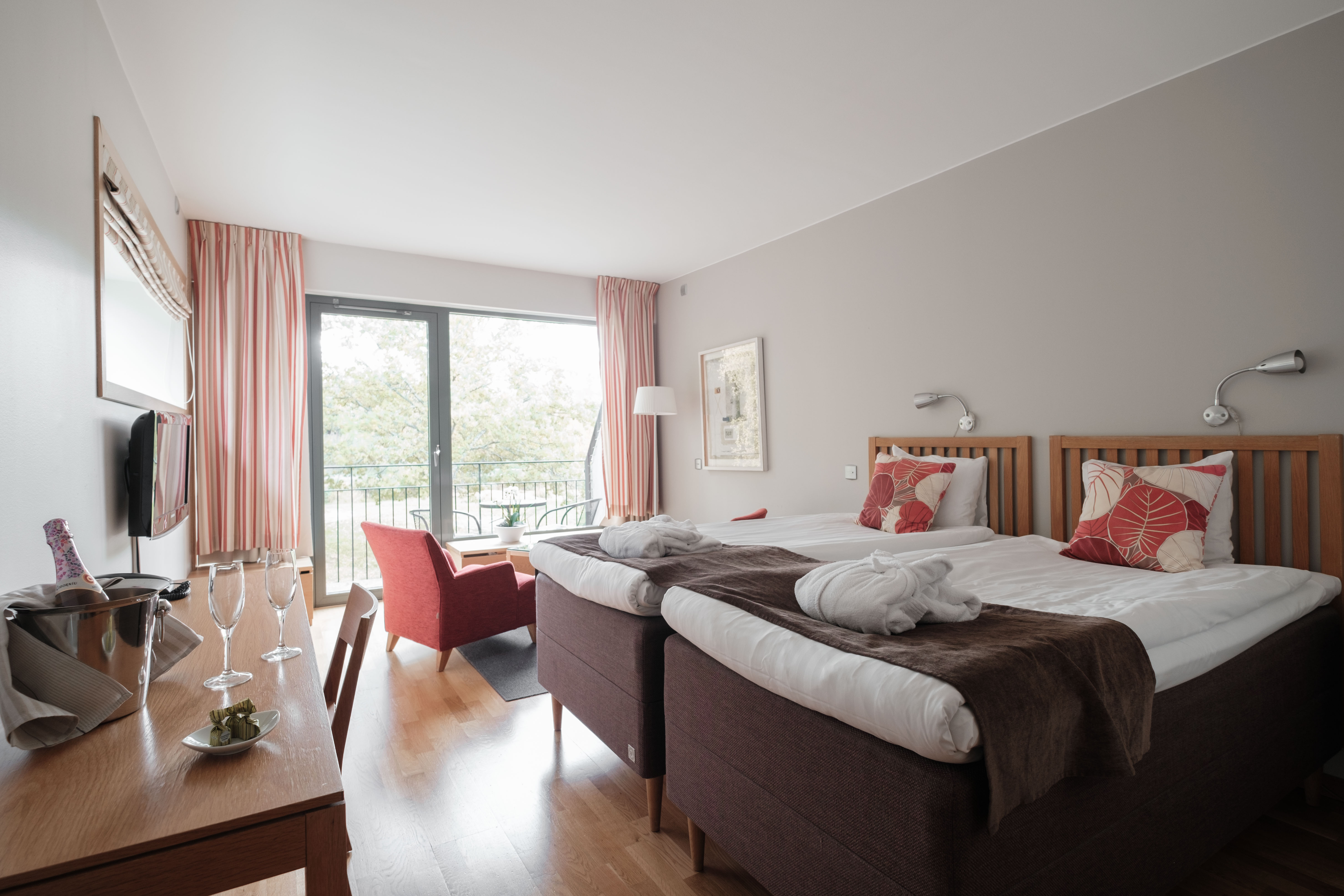 When can I check in?
In your event list you will find your check-in and check-out times. If you arrive earlier, there are lockers in the main building where you can store luggage. Feel free to take a walk in our beautiful surroundings. 
What is the age limit at the spa? 
We welcome all guests over the age of 16 to our spa. Some selected weeks throughout the year though, such as Christmas holidays, sports holidays, Easter holidays, autumn holidays and in the summer, we lower the age limit at our spa.
What happens if I have to cancel my spa package?
For overnight packages, we always recommend ordering cancellation protection already at the time of booking. It costs SEK 100 per person and gives you the opportunity to cancel in case of illness until the day of arrival. The cancellation protection is personal and a medical certificate is required. If you have not ordered cancellation protection, you can cancel your package free of charge up to 7 days before arrival. In case of later cancellation, the full price will be charged.
Cancellation of the day package can be made free of charge up to 72 hours before arrival. In case of later cancellation, full price will be charged. In case of cancellation, Skepparholmen retains the cost of the cancellation protection and charges an administrative fee of SEK 150 including VAT.
You can, however, transfer the package to another guest / friend.
Can I book spa treatments on site?
We recommend that you book the spa treatments at least one week before arrival as the treatment times are often fully booked when you arrive on site.
Treatment with a male or female therapist
We have female and male therapists who perform our treatments. Unfortunately, we can not guarantee that we can meet your wishes regarding choice of male or female performing your treatment, but of course we try. 
In the following conditions, we do not carry out any treatment due to serious health hazards:
- Acute inflammation
- Infectious skin conditions
- Blood clot, inflammation of the vessels
- Malignant tumors 
- Fever / Infections 
What should I take with me to the spa
Bring swimwear if you want to bathe and swim. Also bring training clothes or soft clothes so that you can participate in our digitally-led workouts via Yogobe. No shoes are needed for the quiet sessions. Ideally, you are barefoot. However, it is good to have sneakers for indoor use when you train at our gym. Loan towels and slippers are included for all guests visiting our spa. Our spa is appreciated by guests seeking calm and serenity, so please turn your mobile phone into silent mode.
Free digital led passes
If you want to participate in one of our activities, take a participant ticket in our savings reception. The number of places is limited.
Cot
If you want to book a cot, it costs SEK 150 per child and night. The age limit for visiting the spa is 16 years.
Clothing recommendation at our meals
Bathrobe can be worn for breakfast, brunch and lunch, even though most of our guests choose to wear ordinary clothes. At dinner you are not to wear bathrobe. Bath slippers must not be used outdoors.
Menu
One week before arrival, we present the weekly menu on our website. For us being able to give you upmost service, reserve seats in the dining room no later than 1 week before arrival. Some seating times are more popular than others. Let us know in good time if you have any food allergies so that we can arrange alternative dishes. It is also possible to pre-order our advantageous wine package before arrival or on site with us in connection with other orders.
Parking
Free outdoor parking in the Skepparholmen Nacka area.
Non smoking
Please note that smoking is not allowed indoors, nor by the outdoor pool or on the terraces. Smoking can only take place in designated areas. See signs or contact the reception.
Cash free
With us, you can pay with debit cards (Visa, Mastercard and American Express) and Swish. 
We are a cashless facility.
A Warm welcome! We strive to make you long for your return.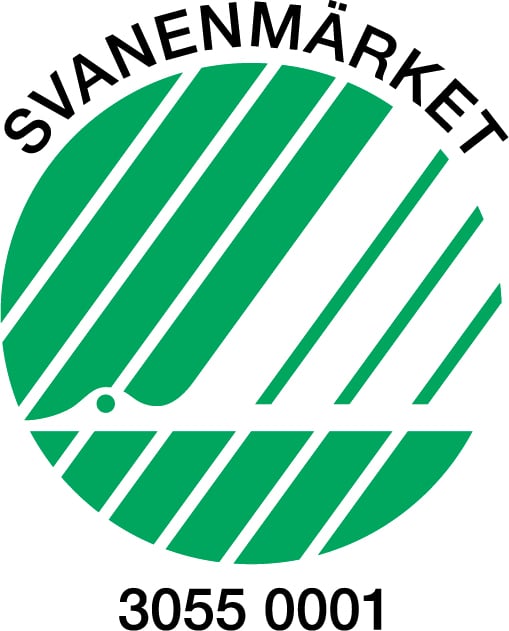 With our heart for the environment
We always strive to minimize the environmental impact without reducing quality and service. That is why we choose suppliers and products that have the least impact on the environment. The hotel is quality certified according to ISO 14001 and eco labeled with "Svanen". In addition, the restaurant is Krav certified.